Staycation in Bandung
Event in Jakarta
Flight to Surabaya
Tour in Lombok
Train to Yogyakarta
Car Rental in Semarang
Activities in Bali
Exploring the Wonders of Kawah Ijen
Explore Kawah Ijen with the Best Tour Packages
Exciting Adventure at Kawah Ijen!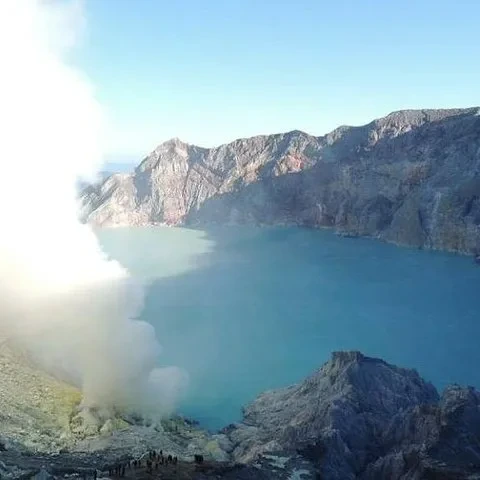 Ijen Crater, also known as Mount Ijen, is one of the most popular tourist attractions in Indonesia. Located on the border between Banyuwangi and Bondowoso in East Java, Ijen Crater offers an engaging hiking experience and breathtaking natural scenery.
The elevation of Ijen Crater reaches 2,386 meters above sea level and is part of Mount Ijen, which is also recognized as one of the active volcanoes in Indonesia. Its most recent eruption occurred in 1999, making it an appealing destination for adventure enthusiasts and photographers.
The highlight of visiting Ijen Crater is the rare "blue fire" phenomenon that occurs at night, where burning sulfur gas produces a mesmerizing blue light. The crater also houses the Ijen Crater Lake with its turquoise-green water due to its sulfuric acid content.
Hikers enjoy a challenging journey to reach the crater, with beautiful landscapes along the way and a pinnacle experience of witnessing the sunrise from the crater.
Exciting Activities at Ijen Crater
Ijen Crater offers fascinating natural activities for you to engage in. What are they? Read on for the details.
Witnessing the Blue Fire
One of the main attractions of Ijen Crater is the Blue Fire phenomenon. This rare phenomenon only occurs in two places in the world: Ijen Crater and Iceland. The Blue Fire is formed by the reaction between sulfur gas emitted from the mountain and the air, resulting in blue flames. This phenomenon is most visible from July to September, particularly during the dry season. To clearly see the Blue Fire, it's recommended to start the hike at 1 a.m.
Sunrise at the Peak of Ijen Crater
In addition to the Blue Fire, you can also enjoy the beauty of the sunrise at the peak of Ijen Crater. August is the ideal time for sunrise viewing, as the sun's position is clearer. Watching the sunrise above the crater will provide an unforgettable experience.
Photography at Ijen Crater
The Ijen Crater area is also a perfect spot for photography. Its stunning natural beauty, with the bluish-green hue of the crater and sulfur smoke, creates an attractive background for unforgettable photo moments.
Admiring Edelweiss Flowers and Pine Trees
During the hike to Ijen Crater, you'll pass through a charming path with views of Edelweiss flowers and pine trees. The beautiful Edelweiss flowers and towering pine trees add to the natural beauty surrounding the crater.
Location and Route to Ijen Crater
Ijen Crater is located within the Ijen-Merapi volcanic complex in the eastern part of Java Island, Indonesia. More precisely, it's situated in Banyuwangi Regency, East Java Province. Mount Ijen stands at an altitude of approximately 2,799 meters above sea level and is one of Indonesia's renowned natural tourist destinations.
There are several routes you can take to reach Ijen Crater. If you have a private vehicle, you can take the route from Bondowoso, traveling from Surabaya or Malang. You can also use public transportation, such as a bus heading to Bondowoso, and then continue the journey by renting a Jeep towards Paltuding Base Camp.
Upon reaching Paltuding Base Camp, you'll proceed with a 3 km hike to the crater's edge. This journey takes about 2 hours.
Hiking Guide for Ijen Crater
Hiking to Ijen Crater requires thorough preparation. Here are some guidelines to help you hike safely and comfortably:
Hiking Equipment Preparation
Flashlight or headlamp and spare batteries.
Gloves.
Warm jacket.
Gas mask to protect yourself from toxic sulfur gas around the crater.
Health mask and hand sanitizer.
Hiking boots.
Change of clothes.
Sufficient food and water.
Hiking stick.
Raincoat.
Oxygen.
First aid kit.
Points to Note:
Avoid wearing jewelry as it might be exposed to sulfur and change color.
Don't wear contact lenses as they can cause eye irritation due to sulfur gas.
Avoid carrying too much baggage as the hike is challenging.
Give priority to sulfur miners to pass through the trail first.
Wear a full mask with air filter to protect yourself from toxic fumes.
Avoid sulfur smoke that can cause health problems.
Ijen Crater Entrance Ticket
To enter Ijen Crater, you need to purchase an entrance ticket. Ijen Crater entrance tickets can be bought online through the official Ijen Blue Fire website to avoid overcrowding.
The entrance ticket price for Ijen Crater is reasonably affordable. For local visitors, the ticket price on weekdays is Rp5,000 for domestic tourists and Rp100,000 for foreign tourists. On weekends, the ticket price is Rp7,500 for domestic tourists and Rp150,000 for foreign tourists. Additionally, there's also an entrance ticket for the Ijen Wildlife Sanctuary priced at Rp20,000 on weekdays and Rp30,000 on weekends.
If you're interested in renting a Jeep or using a travel organizer's services, there are also Ijen Crater tour packages available. These tour packages will provide you with convenience in exploring Ijen Crater and enjoying all its beauty.
*Ticket prices are subject to change.
Ijen Crater Tour Packages
If you're planning to visit Ijen Crater, you can opt for an Ijen Crater tour package. By purchasing an Ijen Crater tour package, you won't need to worry about arrangements on-site. Local tour operators will help you organize everything from transportation and accommodation to guided assistance throughout the journey. Here are some Ijen Crater tour package recommendations available on tiket.com.
Ijen Midnight Blue Flame Tour Package: Rp767,629
Open Trip to Ijen Crater by Cakra Adventure: Rp275,000
Open Trip to Ijen Crater and Baluran by Cakra Adventure: Rp410,000
24-hour trip to Ijen Crater & local Javanese breakfast: Rp1,884,975
Ijen Crater Midnight (Share Tour): Rp603,192
Ijen Blue Fire Tour - Share Package (Start from Banyuwangi): Rp509,097
3D2N - Mount Bromo, Tumpak Sewu, Ijen Crater starting from Malang or Surabaya: Rp8,597,785
Ijen Blue Fire Tour - Share Package: Rp452,394
Mount Bromo and Ijen Crater tour (3D2N) 2-person minimum: Rp2,639,272
Ijen Crater Midnight (Private Tour): Rp1,281,783
Ijen Crater Tour with Sulfur Processing Factory (3D/2N): Rp2,213,850
Ijen Crater Tour with Blawan Hotspring: Rp1,526,983
3 days in Java: Bali-Bromo-Ijen-Bali: Rp5,127,439
Transport Service to Ijen Crater from Banyuwangi City Round Trip: Rp749,393
Hiking Ijen Crater via Surabaya: Rp3,740,066
*Package prices are subject to change. Check for updated prices on tiket.com.
Attractions Around Ijen Crater
Apart from visiting Ijen Crater, there are several exciting tourist spots nearby that you can explore. Some of them include:
This waterfall is located in Taman Suruh Village, where you can enjoy the beauty of the waterfall in this area.
This tourist spot is located in Kampung Anyar Village. This waterfall offers beautiful scenery.
Blawan Waterfall is situated in Kalianyar Village. This waterfall serves as the source of Ijen Crater and has a high sulfur content.
Additionally, there are also Kali Pahit Waterfall, Wurung Crater, Crescent Moon Crater, Tamansari Village, and hot springs around Ijen Crater that you can visit.
Your visit to Ijen Crater will be an unforgettable experience. With thorough preparation, you can enjoy extraordinary natural beauty and the rare phenomenon of the Blue Fire. Don't forget to purchase entrance tickets and choose tour packages that suit your needs to ensure a smooth and enjoyable journey!