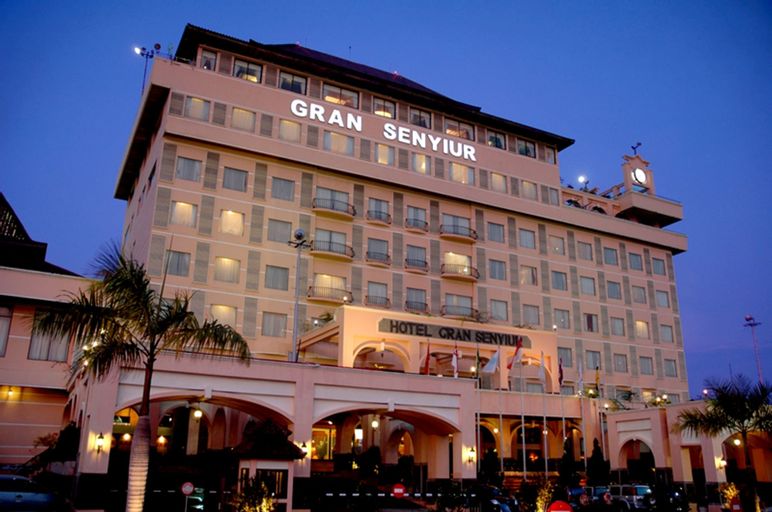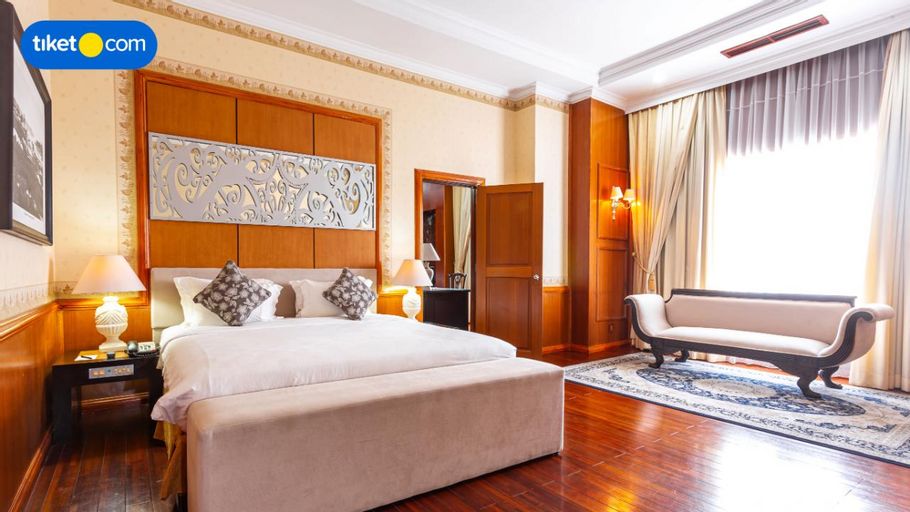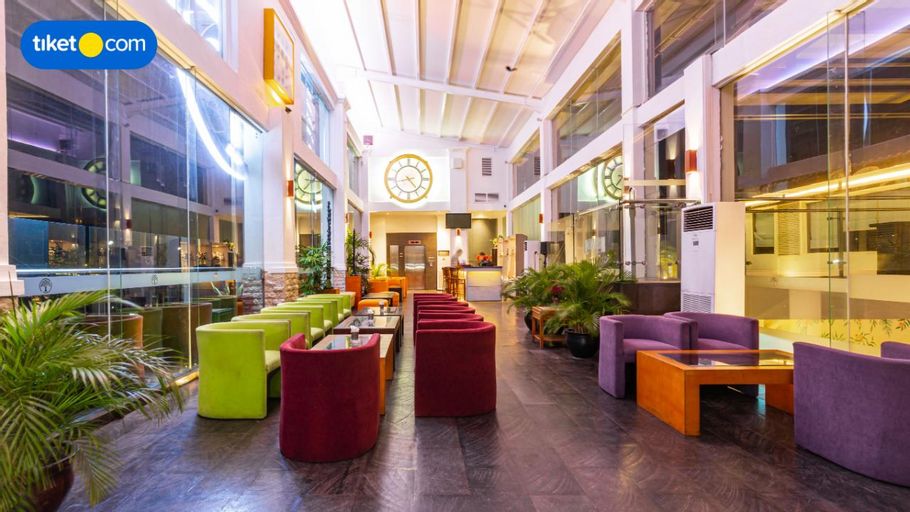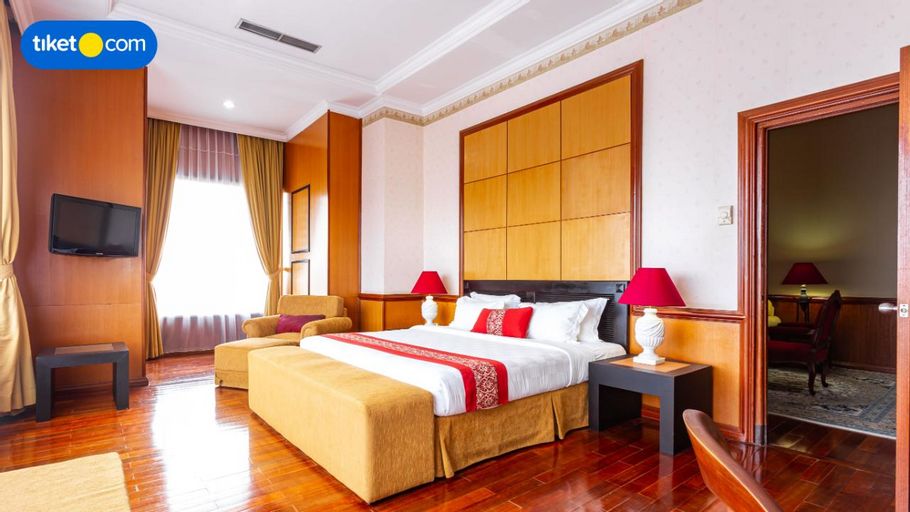 + 53 others
Hotel
Gran Senyiur Hotel Balikpapan
Kota Balikpapan, Balikpapan

This accommodation is clean, safe, and CHSE certified by the Ministry of Tourism and Creative Economy.
Body Temperature Check
Personal Protective Equipment
Cleaning & Disinfection
Social Distancing Rules
Sanitation Kits Availability
Reviews
Tripadvisor
From 132 reviews
yg kami sukai adalah food and bavaragenya yg tdk kami sukai adalah...tidak ada
keren sih ini pelayanannya.
semuanya bagus.. fasilitas oke..
Klasik tapi masih oke untuk zaman now
Enjoy special discounts & other benefits! Log in or register now.
About Accommodation
Check-in & check-out time
Check-in time:
14:00-23:00
Do you want to check-in early? Arrange check-in time with the accommodation
---
FAQ
What types of rooms are available in Gran Senyiur Hotel Balikpapan?
The room types available in this hotel are:
Superior Room
Deluxe Room
Junior Suite
How much does a typical room cost at Gran Senyiur Hotel Balikpapan?
The cheapest price at Gran Senyiur Hotel Balikpapan if you want to stay tonight is IDR 524,400
What is the address of Gran Senyiur Hotel Balikpapan?
Gran Senyiur Hotel Balikpapan is located at Jl. A.R.S Mohamad No. 7
What are the standard check-in & check-out times of Gran Senyiur Hotel Balikpapan?
The standard check-in time at Gran Senyiur Hotel Balikpapan is starting from 14:00-23:00 and the latest check-out time is at 12:00
What are the facilities available in Gran Senyiur Hotel Balikpapan?
Facilities available in the hotel are (some may require extra charges):
InDOnesia CARE
tiket CLEAN
Swimming Pool
Wifi
Parking
Faciliies
Sports, Spa & Recreations
Public Facilities
•
Designated smoking areas
Reviews
yg kami sukai adalah food and bavaragenya yg tdk kami sukai adalah...tidak ada
Josua Hutapea
19 Jul 2021 - Couple
keren sih ini pelayanannya.
fitriah fitriah
04 Jul 2021 - Family
semuanya bagus.. fasilitas oke..
Klasik tapi masih oke untuk zaman now
Dapat kamar yg luas... thanks
Maryono ST MMT
24 Jun 2021 - Group
Hotel yang estetik dengan tema tempo dulu, dekat kota dan pelayanan yang bagus
Heru Supriadi
23 Jun 2021 - Solo
Five Star Hotel with 3 Star Rate.... Mantul
Hotel rekomended di Balikpapan
Cleanliness
4.0
Rooms
4.0
Location
4.0
Service
3.5
Value
3.5
t0nylimz
13 Mar 2019 - Business
Will prefer other newer hotel with same price range in balikpapan 1.old hotel and room .. took executive suite.. definitly rarely cleaned because hardly occupied 2. Facilities with poor condition : gym have some equipment but in Basement level..spooky corner ..should relocate it somewhere elelse 3. Pool : pictures are deceiving...it is a small L shape pool.. around 20m length 4. Disappointing breakfast selection 5. Access to location : easy ... no additional extra like beach ... .. 6. EXTRA POORwifi connection 7. Staff are friendly ..standard for Indonesian's hospitality level
I have been all around the area and found this the best place to stay. It proved to be a great base for everything I needed and wanted to do in Balikpapan and around it. I liked that it is strategically perched on the hill overlooking the city and the strait, and that it is at the crossroads with easy access to the sights in all the directions. In my opinion, those hotels nearby, even the newer ones, are not as spacious and definitely not as charming as this classy and stylish Gran Senyiur. I was impressed with hotel's amenities and facilities that any business or tourism traveler may need. The WiFi worked great in the room and everywhere around the hotel. Everything is very accessible and comfortable: the gym, the pool, the spa, the restaurants, the bars. The breakfast is diverse and delicious, just wish I left more space for the yummy local deserts served there. I had some lunches and other meals at the hotel and they were memorably tasty. No real surprise, but everyone, from the front desk to the manager, was genuinely welcoming and helpful. There are nice seafood restraints nearby, by the shoreline, but I am happy I went to the nightly gig at the hotel by LasMorado band, the four super-talented and friendly musicians, in the Sky Bar upstairs, which is also a great place to catch a fantastically refreshing breeze and enjoy breathtaking views, with a choice of drink and food. Thank you Gran Senyiur. I will plan to stay here again on my next visit to East Kalimantan.
javiko2019
18 Feb 2020 - Solo travel
The room itself was quite dirty,the walls,the floor, the tables, Nothing had been properly cleaned for long time and particularly the bathroom.Also de toilets in the bar were extremely filhty.There was a constant mould damp smell in the entire room that gave me a head ache after the first night,and a very itchy skin. I complained to reception but the girls didn't seem to understand english,I said I wanted to leave ,that I'd prefer to be in the jungle, then the manager over heard us and came over singsonging "jungle,jungle" and told me , I quote, "Sir you can leave any time you want,but you are not getting a refund because that's the rule,you didn't pay us,you paid the agent". I pointed out that the room wasn't up to a 5 star hotel standards but he kept repeating that. With a smirk on his face,I might add. The first morning, housekeeping staff woke me up ringing the room bell several times to clean the room,it was 08:20a.m. I asked them not to do that as I was sleeping and it was way too early. Nevertheless, they did it a few more times during my stay. Another morning,at almost 09:00a.m. some maintenance was taking place in the next room because I was woken up again but this time with hammering noises.
Travelloverdelmundo
05 Mar 2020 - Solo travel
got there and was impressed at how nice it was. looked like something out of a movie set ! greeted very nicely and took my luggage in. front desk staff very polite, smiling, happy people ! just felt like i was home. They brought my bags up to the room and i knew i was at the place to be in Balikpapan. room was, bright, CLEAN AND NICE !! The room has good wifi and for me after coming from a place with no ac, and no hot water it was like being in heaven 😁😁👍. i was leaving the room when my ipad pinged with a message so i stopped outside the door to check it when 2 polite young ladies from staff were walking by a d asked if everything was ok. i told them just checking messages and they said if i needed anything to please let them know. that was a first ! added to my great first impressions. i decided to go have a beer in the lounge. again like a movie set from years ago in the time when hotels like this were for the rich, famous or important people. another reviewer mentioned the hotel is old, which it is but the difference between this hotel and another hotel here is THIS PLACE IS CARED FOR AND IT SHOWS ! Ordered a beer and since i was only person there i chatted with the Bartender Miss Feby. very polite sweet young lady and another young man also. was showing them some photos of my travels and home and next thing i knew it was like i was holding court. many of staff and gathered around and i was surrounded by new friends. some other guest had come and sat in the lounge and the waiter stopped talking and went right over to them and when Miss Feby got the order she aslo stopped talking and made the order. Just as it should be. then another young lady walked out and started talking and introduced here self as from food and beverage sales. Miss Marzsa Noer Larasati. as much as i hated to leave she brought me up and showed me the skybar. i had no idea it existed. we talked anout many things and you could see in the way she carried herself and spoke she was a professional in her job. she promotes events for the hotel and she gave me her business card and explained her job. she makes sure everything in restaurant and bars is perfect for the guest. they have many different events and she shared her whatsapp with me and the phots show this is not just a nice hotel but a fun place to be for all ages in Balikpapan. sadly i had a dinner engagement out with friends a d had to excuse myself. very hard to leave this young lady. her attitude about her job and life was amazing. she will have not just a great career but great life also. the next morning I had a 6:45 AM flight and my ride was supposed to pick me up at 4:30 but never showed and the guy who ran my tour was constantly checking with me to see if his driver arrived and i was pacing back and forth and the staff asked if i needed help and when i explained my predicament they got their phones out and got me a grab car to airport a d when it arrived they grabbed my bags and put them in the car for me. thanks guys for your help. made flight thanks to you ! i urge all of you to talk with the staff when you go to different places. everyone has a story to tell and is happy to share it all around the world. you learn thing not only about the place you are staying but places in towns you do not know about as well as making new friends and to me thats why i always enjoy meeting people.
NS23071945
28 Oct 2019 - Family
Hotel Gran Senyur was ok . Altho old . Wifi is available on every floor. But very unstable . No hand rail for handicapped person in bathroom . No handheld shower either. Room was big enough for an extra bed. Fridge was cold n was able to make ice cubes. Great! Breakfast was good. Staff were all very friendly n helpful n polite. Location was just right. Near to many restaurants. Luckily there were enough lifts . So did not have to wait long to go back to our room. We went to Samarinda hoping to visit the Dayak village. Unfortunately they were in mourning as one of them just died. For Dayak ceremony are held on Sunday morning only.
You've reported a review.
A problem occurred and we need a while to fix it. Please try again later.
You've already reported this review, and we're currently checking your report.
Yay! You've successfully logged in
You've reported a review.
A problem occurred and we need a while to fix it. Please try again later.
You've already reported this review, and we're currently checking your report.