Staycation in Bandung
Event in Jakarta
Flight to Surabaya
Tour in Lombok
Train to Yogyakarta
Car Rental in Semarang
Activities in Bali
S.E.A. Aquarium™
Open hours may vary. Check now
Visit one of the world's largest indoor aquariums with different sea habitats from Shipwreck Habitat, Shark Seas, Coral Garden, Open Ocean Habitat, and many more!
You can do a range of activities, from close encounters with animals to interactive learning programs.
Suitable for: Family Vacationer and Group Traveler.
S.E.A. Aquarium will close early on September 16th due to a private event. The park will close at 2 PM, with the last entry of guest at 1 PM.
The park opens at 10 AM on September 16th.
Review
cocok bt anak2 seru yg suka dunia air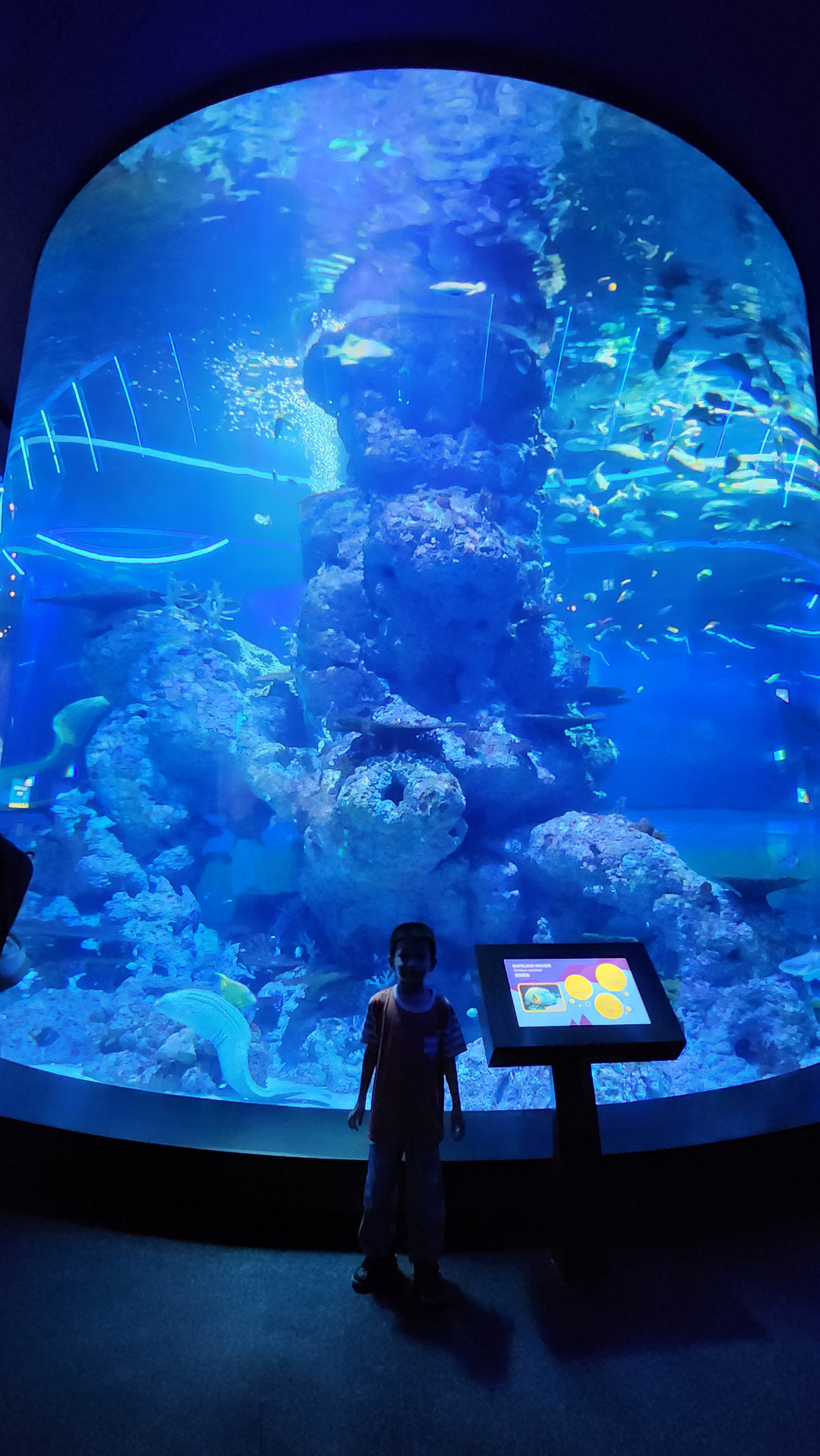 Beli online di dpn loket gegara harga di tiket.com lbh murah drpd beli tiket on the spot, hitungan menit lgs keluar barcode tiket dan bs lgs masuk deh...
Clara Suryadinata
• Family
Good place to visit, my kids very happy to be here
indriani indriani
• Family
best price tinggql scqn barcode lgsg masukk
Packages
Select visit/event date
See calendar
SEA Admission 2023
Details
Valid on the selected date
Instant Confirmation
No reservation needed
sentosa gateway, s.e.a. aquarium, sentosa island, singapore, sentosa island, singapore, singapore, singapore
S.E.A. Aquarium™
Starts from 
General Information S.E.A Aquarium
S.E.A. Aquarium™ Entrance Tickets
Are you a marine animal lover? You definitely don't want to miss the chance to meet marine animals on vacation! If you're visiting Singapore and want to see fish, jellyfish, and other unique animals, you can book a ticket to S.E.A. Aquarium Singapore. What makes this aquarium unique? Let's explore it together!
S.E.A. Aquarium™
As an aquarium attraction, of course, the S.E.A. Aquarium offers the opportunity to see marine animals from a closer distance. However, one thing that sets this aquarium apart from other attractions is the layout of the rooms. How are you?
All the animal species in S.E.A. Aquarium are divided into ten zones that simulate their original habitats from different parts of the world as closely as possible. You'll find zones based on the geographical conditions of the South China Sea, Red Sea, Java Sea, Karimata Strait, and East African Sea. That way, you can witness the circle of interaction within each different ecosystem.
Another unique feature of this attraction is the presence of marine animals from darker depths, ranging from leafy sea dragons aka weedy seadragon, wolf eel, and even protected animals such as manta rays. If you come at the right time, you can also feed the manta rays, so not only will you get to see the famous marine animals, but you can also meet schools of salmon and whales at S.E.A Aquarium Singapore.
Speaking of whales, you can also discover various species of whales and sharks that are apex predators while passing through a glass hallway. When else can you get up close and personal with these powerful animals? So, if you're curious about the diversity of marine life at S.E.A. Aquarium Singapore, schedule your vacation now and book your S.E.A. Aquarium tickets at tiket.com!
Ticket Prices for S.E.A. Aquarium™ Singapore
Although relatively high, ticket prices for S.E.A. AquariumTM Singapore include access to all existing marine animal exhibition zones, so you can meet your favorite marine animals to your heart's content. For international visitors, the S.E.A. AquariumTM costs IDR 408,439.
*Prices above can change at any time, check the package catalog on this page for updated prices.
Facilities at S.E.A. Aquarium™
Because the S.E.A. AquariumTM occupies 8 hectares of land, you will find very complete public facilities to complete your experience of getting to know many rare marine animals. Here are the facilities at S.E.A. AquariumTM that you can use:
Restaurants and cafes;

ATM;

Gift shop;

Toilet;

Wheel chair rental.
Location of S.E.A. Aquarium™
If this is your first time visiting S.E.A. Aquarium Singapore, the aquarium attraction is located at 8 Sentosa Gateway, Sentosa Island, Singapore. For a more convenient trip, you can use the route guide from the digital maps app on your smartphone.
How to Get to the S.E.A. Aquarium™
To get to S.E.A. Aquarium, you have two transportation options, namely taxis and public transportation. You can save your travel costs by taking the bus to S.E.A. Aquarium, especially since it is easily accessible. To travel by bus, take bus number 188R, 963R, 123, NR1, or NR6 and get off at Resorts World Sentosa Stop 14519. After that, you can enter through The Forum and take the escalator that will take you straight to the entrance of the S.E.A. Aquarium.
Operational Hours of S.E.A Aquarium™
As one of the largest aquariums in the world, you will need a lot of time to explore all the zones in S.E.A AquariumTM. So that t-mates can plan their time well, make sure you check the details of the following S.E.A AquariumTM :
Monday, Tuesday, Saturday, Sunday
Operational hours: 10.00-17.00 SGT;
Wednesday-Friday closed for periodic maintenance.
Let's Go to the S.E.A Aquarium™
Have you found the right schedule for your vacation to S.E.A Aquarium Singapore? If so, don't forget to book your ticket a maximum of a day before arrival! Make sure you have received at least the second dose of the Covid-19 vaccine before visiting.
Follow the health protocols and rules that apply at S.E.A. Aquarium Singapore so that you and the marine animals are always safe. What are you waiting for? Let's make your vacation come true and buy your S.E.A. Aquarium entrance ticket now at tiket.com! You can also use cheap promos to make your vacation even more efficient!
Hotel & Transport Recommendation